Gratuitousness: Catholic Social Teaching's Solution for Capitalism
by CAPP-USA
WHAT IS GRATUITOUSNESS?
Gratuitousness is the gift of self – "our intellectual abilities and our entrepreneurial skills" – where men and women in business "work not only for themselves, but also to ensure for others a future and a dignified employment."  (Pope Benedict XVI, 5)
WHAT DOES THIS MEAN?
"Concretely, in economic activity" this means that business women and men "engage in economic activity for the sake of the common good and they experience this commitment as something transcending their self-interest, for the benefit of present and future generations." (Pope Benedict XVI, 5)
WHY IS

GRATUITOUSNESS

THE SOLUTION?
"[A] 'livable' or truly human economic development requires the principle of gratuitousness." Indeed, "True and lasting success" within the market, "is attained through the gift of ourselves". (Pope Benedict XVI, 5)
"In the wider life of society we come to see that 'gratuitousness' is not something extra, but rather a necessary condition of justice…Who we are, and what we have, has been given to us so that we can place it at the service of others." (Pope Francis)
As Pope Francis said, "In this sense, the various grave economic and political challenges facing today's world require a courageous change of attitude that will restore to the end (the human person) and to the means (economics and politics) their proper place. Money and other political and economic means must serve, not rule, bearing in mind that, in a seemingly paradoxical way, free and disinterested solidarity is the key to the smooth functioning of the global economy." (Letter to H.E. Mr. David Cameron)
A FINAL THOUGHT
"The goods of the earth are meant for everyone, and however much someone may parade his property, which is legitimate, it has a social mortgage – always." (Pope Francis)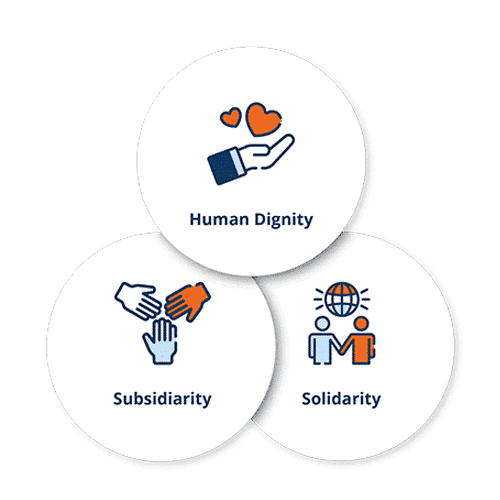 Catholic social teaching is built on three foundational principles - Human Dignity, Solidarity and Subsidiarity. Human Dignity, embodied in a correct understanding of the human person, is the greatest. The others flow from it. Good governments and good economic systems find ways of fostering the three principles.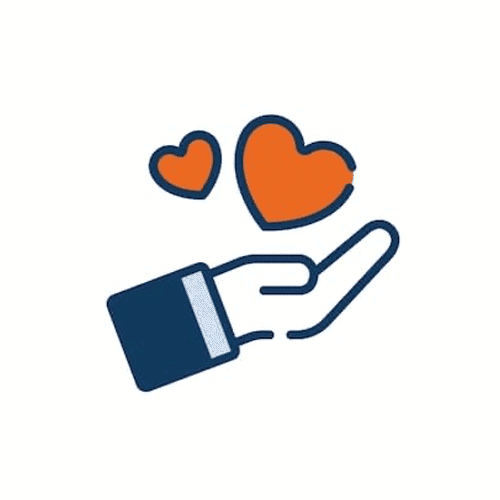 Human Dignity
This means a correct understanding of the human person and of each person's unique value. All Catholic social teaching flows from this: the inherent dignity of every person that comes from being made in God's image.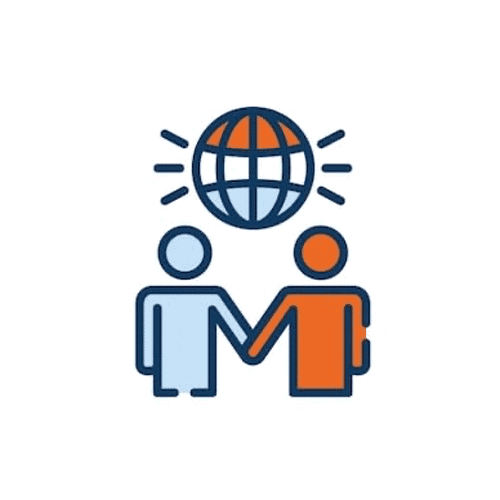 Solidarity
Solidarity is not "a feeling of vague compassion or shallow distress at the misfortunes of others. It is a firm and persevering determination to commit oneself to the common good". (Pope St. John Paul II, 38) Love of God and love of neighbor are, in fact, linked and form one, single commandment.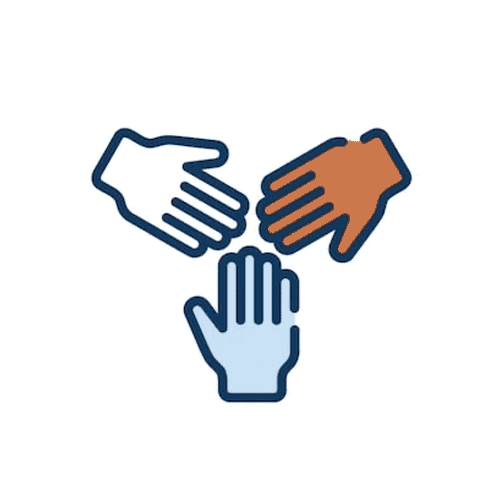 Subsidiarity
Subsidiarity "is a fundamental principle of social philosophy, fixed and unchangeable, that one should not withdraw from individuals and commit to the community what they can accomplish by their own enterprise and industry. So, too, it is an injustice and at the same time a grave evil and a disturbance of right order to transfer to the larger and higher collectivity functions which can be performed and provided for by the lesser and subordinate bodies". (Pope Pius XI)
Centesimus Annus Pro Pontifice, Inc (CAPP-USA) is the United States affiliate of Fondazione Centesimus Annus Pro Pontifice at the Vatican. | Sitemap
Phone: (888) 473-3331
Address: 295 Madison Avenue, 12th Floor, New York, NY, 10017