CAPP events are foremost ways for us to grow in our understanding and practice of Catholic social teaching.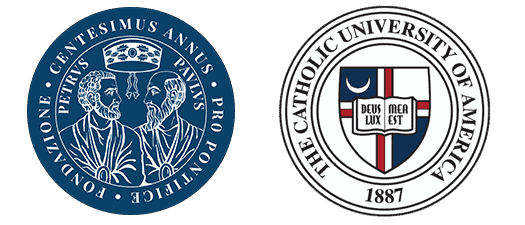 2022 Certificate Program
Centesimus Annus Pro Pontifice-USA (CAPP) and The Catholic University of America (CUA) jointly announce the "2022 Certificate Program in Catholic Social Teaching" from October 23 – 28.
This week-long, graduate level investigation of the Church's deep patrimony of social teaching is open to diocesan administrators/department directors, and their staff, in Religious Education, Catholic Charities, Catholic Conference, Social Justice, and other ministries. It is also open to clergy, religious, seminarians and lay leaders in philanthropy, business, the professions, and academia who wish to have an in-depth understanding of the Church's social teachings from noted scholars, theologians, and professionals.
The certificate program promotes understanding and application of Catholic social teaching as developed and advanced by the magisterium for over 125 years, starting with Rerum Novarum and emphasizing the Church's current statement in Centesimus Annus, Deus Caritas Est, Caritas in Veritate, Evangelii Gaudium and Laudato Si'.
Lecture Topics
The extensive program topics include:
Introduction to Catholic Social Teaching (CST)
The Three Cornerstone Principles of CST- Human Dignity, Solidarity, Subsidiarity
History of CST
CST & Culture
CST & the Developing World
CST & Free Market Economy
CST & Democracy, and the Role of the State
CST & the Family
Consumerism & Alienation the Developed World's Main Dysfunctions
In addition to facilitated evening discussions on the Three Cornerstones of CST, Religious Freedom and Entrepreneurship will be explored. Participants are welcomed to experience a retreat environment having housing at the Washington Retreat House including daily Liturgy of the Hours and Mass. If the schedule allows, there may be some time to explore the area shrines.
International Conference – NYC
CAPP, in partnership with Fordham University's IPED, hosted: The Health of Nations: Pope Francis' Call for Inclusion. This saw Bishop Frank Caggiano (Diocese of Bridgeport, Chair of Catholic Relief Services and Assistant National Ecclesiastical Counselor to CAPP-USA) set the stage in the light of Catholic social teaching and Pope Francis' perspective. Professor Sir Angus Deaton (School of Public and International Affairs and the Economics Department at Princeton University and recipient of the Nobel Prize in Economics) then focused on the topic in light of his extensive, lifetime work on development. Following the talks a conversation between Bishop Caggiano and Professor Deaton, as well Q&A with the audience was moderated by Professor Joseph P. Kaboski (Professor of Economics at University of Notre Dame and President of CREDO).
The gathering saw a COVID restricted in person audience of 90 and, with the outstanding support of America Media and 12 sponsoring organizations, an online audience of 2,300+.
When: September 24, 2021
Where: Fordham University, Manhattan, New York City
Bishop Caggiano Reflects on Pope Francis' Call for Inclusion
Crux Highlights Bishop Caggiano
2018 Fordham Conference
The conference "Reduce Hunger: Pope Francis' Call for New Approaches" answered Pope Francis' call in his 2017 World Food Day address at the United Nations Food Agriculture Organization. CAPP-USA and Fordham University's Graduate Program in International Political Economy and Development hosted world experts at a conference with the challenge to identify "concrete actions" to "reduce the number of those going hungry…to guarantee to all human beings the right to be nourished."
When: September 28, 2018
Where: Fordham University, Manhattan, New York City
Intervention by H.E. Mgr. Paul Richard Gallagher, Secretary for Relations with States, Secretariat of State, Vatican City
2018 Dublin Process
"Ethics in International Business and Finance": An 'Ethical Compass' is necessary to ensure that the economy works in the direction indicated by Pope Francis, that of the common good, a primary principle in Catholic social encyclicals. The aim of discerning solidarity aspects involved in business decisions is a basic theme of CST. In business circles, the same basic idea inspires many ongoing inquiries on inclusive entrepreneurial initiative and an inclusive economy.  In the wake of current opportunities and concerns – from the 'fourth technological revolution' to growing inequalities, from the threat of jobless recoveries to the questioning of globalization – a fully innovative approach is required, not just to restore any ethical compass of the past, but to analyse our concepts of economic rationality and define specific ethical criteria which apply to present-day dilemmas. This is the first question submitted to the consultation.
The other complementary question is: who in fact is responsible? Who are the depositors of an Ethical Compass? Business leaders? Public opinion? Consumers? Is it basically a field for individual conviction, or one of general education and mindsets?
When: March 15-17, 2018
Where: Fordham University, Manhattan, New York City
Keynote Address by Most Rev. Bernardito Auza, Permanent Observer of the Holy See at the United Nations
2016 Fordham Conference
The conference "Pope Francis' Call for Escaping Poverty: Practical Examples and New Proposals" has been held in New York City on September 23rd, thanks to the efforts of CAPP USA and in cooperation with Fordham University, the latter also hosting the event in its premises.
When: September 23, 2016
Where: Fordham University, Manhattan, New York City
Address of H.E. Cardinal Pietro Parolin, Secretary of Vatican State
2014 Fordham Conference
The CAPP-Fordham Conference, Poverty and Development: a Catholic Perspective, brought together international authorities and professionals who highlighted poverty and development issues raised by His Holiness, Pope Francis, to address their implications and suggest specific responses and remedies.
When: September 26-27, 2014
Where: Fordham University, Manhattan, New York City
Address of H.E. Cardinal Pietro Parolin, Secretary of Vatican State
"Issues of Immediate Relief, Lasting Development and the Need for Solidarity": H.E. Archbishop Silvano Maria Tomasi Paper
The "Obligation to Intervene": General Roméo Dollaire Paper
Poverty and Development – Perspectives from Haiti: H.E. Cardinal Chibly Langlois Paper
The Suffering and Hope of a Terrorized Community: Jean-Clément Jeanbart Paper
Migration, Economic Development and Poverty: Fr. Richard Ryscavage, S.J. Paper
What Can Economics Add to a Catholic Perspective on Poverty and Development: Dr. Henry Schwalbenberg Paper
Poverty and Development: a Catholic Perspective: Robert A. Nalewajek Paper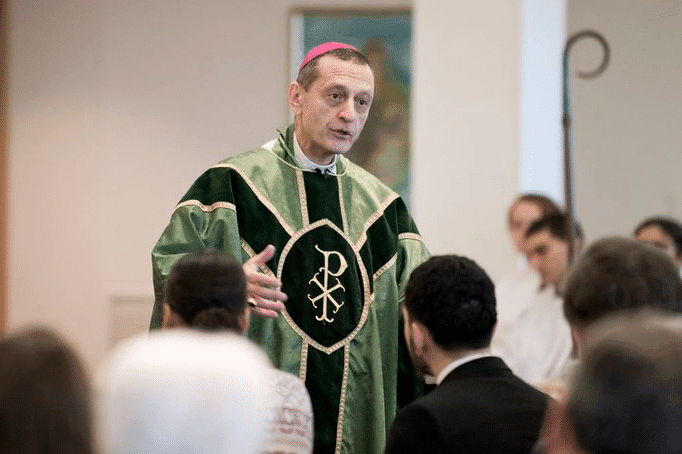 2020 Catholic Business Forum Mass & Brunch
Bishop Frank J. Caggiano addressed business leaders and aspiring business leaders representative of the diocesan community and Catholic Schools at the recent Catholic Business Forum Mass and Brunch held at Fairfield University.
Following the Mass, brunch was served in the Oak Room at Fairfield University, where attendees heard from guest speaker Robert A. Nalewajek, executive vice president of CAPP-USA and past director of FCAPP-Vatican.
When: Sunday, February 9, 2020
Where: Fairfield University, Fairfield, Connecticut
Slides from Keynote Speaker: Robert A. Nalewajek, Founder and Executive Vice President of CAPP-USA
Sign Up For Our Newsletter:
Centesimus Annus Pro Pontifice, Inc (CAPP-USA) is the United States affiliate of Fondazione Centesimus Annus Pro Pontifice at the Vatican. | Sitemap
Phone: (888) 473-3331
Address: 295 Madison Avenue, 12th Floor, New York, NY, 10017