Faith Formation in Catholic Social Teaching
by Dr. Karen Shields Wright
Catholic Social Doctrine has its place where faith and politics meet. The Church's aim is to not replace the State, but to simply help purify reason and to contribute, here and now, to the acknowledgment and attainment of what is just.
This doctrine brings the light of faith and reason into politics, economics, and culture for a just society to prevail.
Pope Benedict XVI stated in Deus Caritas Est, "Justice is both the aim and the intrinsic criterion of all politics. Politics is more than a mere mechanism for defining the rules of public life: its origin and its goal are found in justice, which by its very nature has to do with ethics. The State must inevitably face the question of how justice can be achieved here and now." (Deus Caritas Est, 28)
The issue is not primarily the 'how' to, but what criteria and reasoning is used to develop and formulate polices. It is the 'ideas' of what ideology is used as the criteria to achieve justice.
Catholic Social Doctrine has its place where faith and politics meet.
Reason needs to be exercised properly and effective for justice to be served. Since our reasoning operates within an ideology it can have blind spots. Benedict goes on to state that faith is the purifying force for reason; it offers a horizon beyond the spheres of the secular ideologies that has informed our reasoning today.
"…the Church is duty-bound to offer, through the purification of reason and through ethical formation, her own specific contribution towards understanding the requirements of justice and achieving them politically… She has to play her part through rational argument and she has to reawaken the spiritual energy without which justice, which always demands sacrifice, cannot prevail and prosper." (Pope Benedict XVI, 28)
THE CALL
It is the task of the Church, its leaders, and its ministers of the Gospel to reawaken the spiritual energy,  provide ethical formation to purify reason through faith, allow for rational argument using natural law principles in order to change our culture's ideology – which should be based upon the true nature of the human being – and to further support the faithful in their mission.
"The direct duty to work for a just ordering of society, on the other hand, is proper to the lay faithful…The mission of the lay faithful is therefore to configure social life correctly, respecting its legitimate autonomy and cooperating with other citizens according to their respective competences and fulfilling their own responsibility… it still remains true that charity must animate the entire lives of the lay faithful and therefore also their political activity, lived as 'social charity'." (Pope Benedict XVI, 29)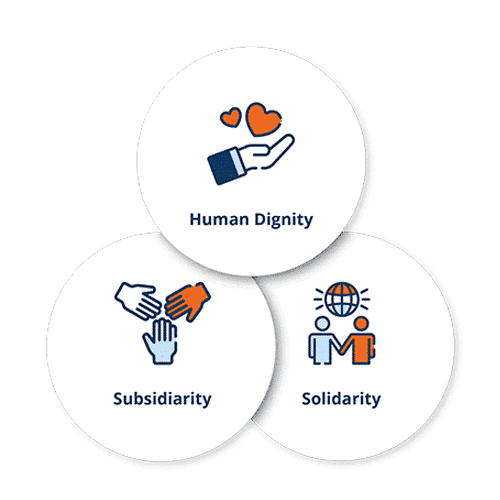 Catholic social teaching is built on three foundational principles - Human Dignity, Solidarity and Subsidiarity. Human Dignity, embodied in a correct understanding of the human person, is the greatest. The others flow from it. Good governments and good economic systems find ways of fostering the three principles.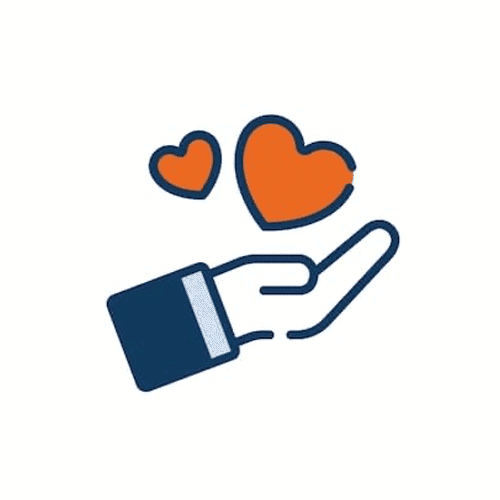 Human Dignity
This means a correct understanding of the human person and of each person's unique value. All Catholic social teaching flows from this: the inherent dignity of every person that comes from being made in God's image.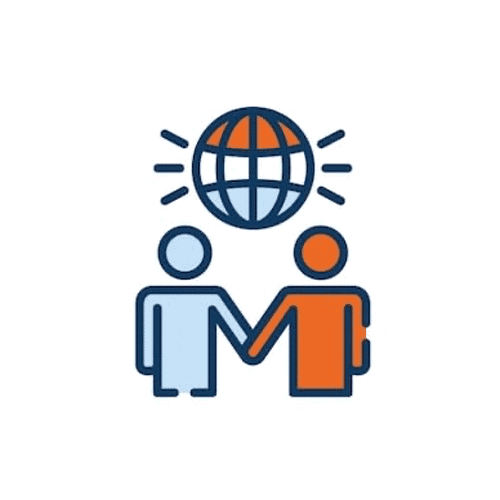 Solidarity
Solidarity is not "a feeling of vague compassion or shallow distress at the misfortunes of others. It is a firm and persevering determination to commit oneself to the common good". (Pope St. John Paul II, 38) Love of God and love of neighbor are, in fact, linked and form one, single commandment.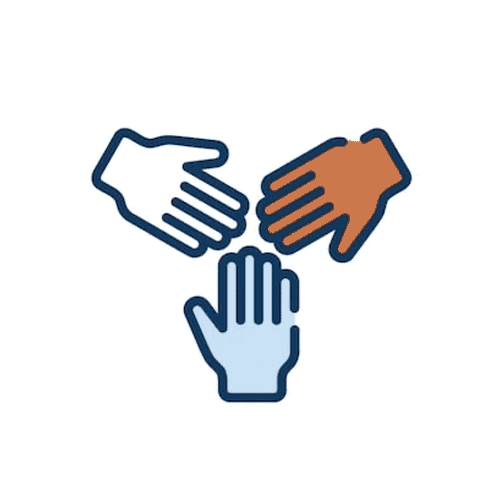 Subsidiarity
Subsidiarity "is a fundamental principle of social philosophy, fixed and unchangeable, that one should not withdraw from individuals and commit to the community what they can accomplish by their own enterprise and industry. So, too, it is an injustice and at the same time a grave evil and a disturbance of right order to transfer to the larger and higher collectivity functions which can be performed and provided for by the lesser and subordinate bodies". (Pope Pius XI)
Centesimus Annus Pro Pontifice, Inc (CAPP-USA) is the United States affiliate of Fondazione Centesimus Annus Pro Pontifice at the Vatican. | Sitemap
Phone: (888) 473-3331
Address: 295 Madison Avenue, 12th Floor, New York, NY, 10017