Centesimus Annus Pro Pontifice & The Catholic University of America
Present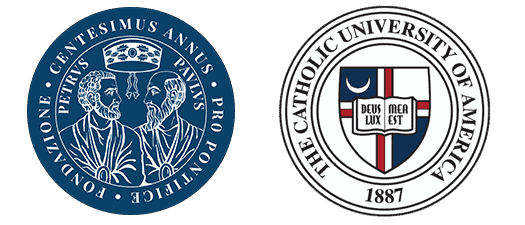 The 2021 Certificate Program in Catholic Social Teaching
Details of Registration
Early Bird Registration – payment by September 15th $1545.00 save $150.00 
(please send deposit of $300.00 with registration to reserve a place; balance due by September 15th)
Final Deadline Registration – October 10th $1695.00 (for registrations made after September 15th) 
The program fee includes tuition, lectures, housing, meals from Sunday evening to Friday lunch and workbooks. Transportation costs and arrangements are the responsibility of the participants. – YOU MAY WISH TO WAIT UNTIL AFTER SEPTEMBER 15th BEFORE BOOKING ANY NON-REFUNDABLE FARES; WE WILL NOT BE ABLE TO COMPENSATE YOU FOR ANY TRAVEL CANCELLATION COSTS.
COVID-19 POLICY:
The Washington Retreat House (WRH) endorses the position taken by both Pope Francis ("the morality of vaccination depends not only on the duty to protect one's own health, but also on the duty to pursue the common good…") and the USCCB ("Our love of neighbor should lead us to avoid giving scandal, but we cannot omit fulfilling serious obligations such as the prevention of deadly infection and the spread of contagion among those who are vulnerable just to avoid the appearance of scandal…") in assisting everyone to understand persons "must do their utmost to avoid … becoming vehicles for the transmission of the infectious agent."
Therefore, WRH requires guests to show proof of vaccination or proof of COVID-19 testing 24 to 48 prior to arriving.
For more information call (201) 599-2123 or email: [email protected] 
Housing: Washington Retreat House
4000 Harewood Road NE Washington, DC 20017 Phone: (202) 529-1111

Arrival: Sunday, October 24th
Please arrive at the retreat house by 3:00 PM to register for housing, and settle-in.
Program begins with Mass, Dinner and Introduction/Welcome – 4:00 PM.

Departure: Friday, October 29th 
Program ends with a Mass & Dinner on Friday afternoon (October 29).  

Program Homework Requirements:
Read and refresh your memory of Pope St. John Paul II's Centesimus Annus, Pope Benedict XVI's Deus Caritas Est, and Caritas in Veritate and Pope Francis' Evangelii Gaudium and Laudato Si'.

What to Wear:
Program – Business Casual Dinner Sunday and Graduation Lunch Friday – jacket for men, and a nice outfit for women.
Please mail check (made out to CAPP-USA) and copy of your registration form to:
Mrs. Patricia Fakharzadeh, 829 Ellis Place, Oradell, NJ 07649. For more information call (201) 599-2123 or email: [email protected]
Centesimus Annus Pro Pontifice, Inc (CAPP-USA) is the United States affiliate of Fondazione Centesimus Annus Pro Pontifice at the Vatican. | Sitemap
Phone: (888) 473-3331
Address: 295 Madison Avenue, 12th Floor, New York, NY, 10017